An exclusive membership for bankers to connect, get exam ready, and master the art of the Community Reinvestment Act
New Justification Kit!
We realize that compliance training budgets are under intense scrutiny, which means you need to outline how the time and money is being spent for you to join the CRA Hub.
Enter the Justification Kit.
A framework aimed to demonstrate the ROI of the CRA Hub membership plus a bonus draft email to executive management!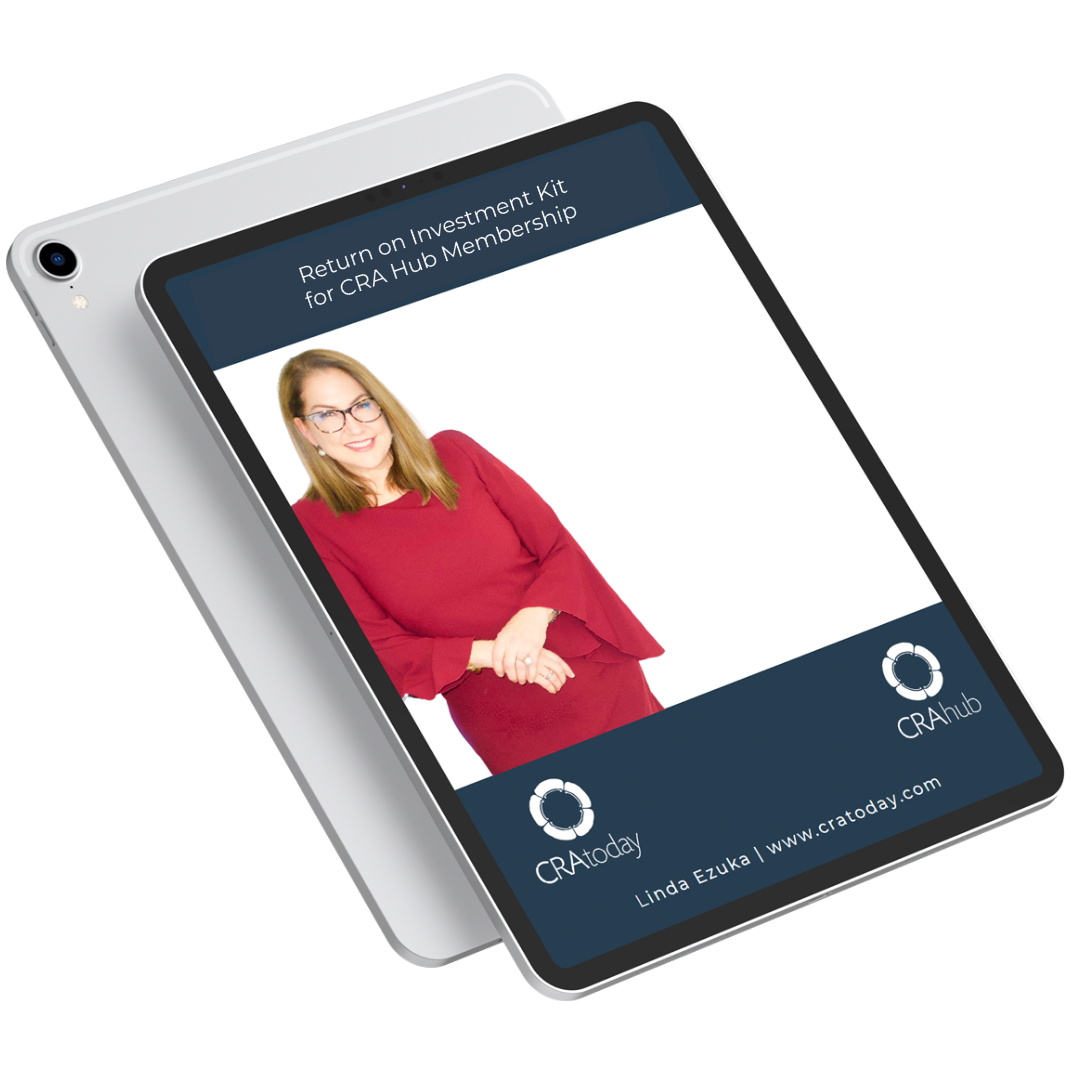 Monthly membership is priced to match common industry webinars to keep membership accessible to budgets of all sizes. Join monthly or annually; cancel anytime, no questions asked.
Monthly Membership: $225 Annual Membership: $2,500
Are you exam ready?
The CRA Hub is a new way to connect, assess your bank's performance and forge community development impact through your CRA program.
"We have found the CRA Hub to be a tremendous resource…especially as we are readying ourselves for FDIC CRA Exam."
– Kelli Diserens, Senior Vice President
Independent Financial
Waco, Texas

No matter where you are on your CRA journey, the CRA Hub delivers impact. The Hub is for you if:
You are new to CRA due to a promotion, new job or position or were never formally trained on CRA.

You understand key CRA program elements and have navigated through your first CRA exam cycle and want to deepen your understanding of CRA best practices.

You are making progress on the integrity of your bank's CRA data collection, maintenance and/or reporting and want to ensure enhanced data integrity.

You want to learn from experts about refreshing your CRA programs, and discover innovative programs to consider in your assessment areas.

You are navigating CRA regulatory reform or you suspect reform is on the horizon.

You want to vet an idea and discuss your approach to CRA decisions with CRA colleagues who understand the unique challenges in your programs.

You want to forge potential partnerships for impact in a broader regional area.
What you'll get when you join
We take a key concept of the CRA and study it together during a training session via Zoom answering your bank specific questions and highlighting industry best practices.
We host special guests and experts to expand your understanding of the CRA and highlight resources that support specific aspects of your CRA program.
We take deeper dives into CRA concepts and study how banks have approached similar situations so you can use the same framework to avoid common CRA challenges. 
We host a private community in addition to the training portal for Hub members to network and support each other thru CRA exams and more.
We host impromptu huddles and opportunities to connect with peers to work thru new programs and share best practices. 
We host a support group for Hub members who are ISBs transitioning to large bank status to create a clear path for the next level of regulatory expectations.
"Linda is very knowledgeable about CRA, and she does a great job of putting language into simple terms. The CRA is so different from other regulations, and it's difficult to learn at first. The CRA Hub has increased my understanding of CRA and also provided me with a great resource for help when I get stuck. The connections you make are impossible to put a price on."
~Crystal Henke
"The CRA Hub has helped in so many aspects in learning more about the Community Reinvestment Act. Having a group of CRA professionals in the Hub to connect with is ideal in understanding what you don't yet know. I love the interaction with my peers and real-life examples to grapple with to help develop us into CRA ninjas."
~Sandy Klatt
"My contact with joining the CRA Hub and getting to know Linda has been a positive experience for me and my CRA program. It has made me more confident with the program I have built and has helped me improve areas when I was unsure. She dives in deep which is exactly what I needed; and keeps it real. I appreciate her enthusiasm, and her personal touch in all she does." 
~Liz Warner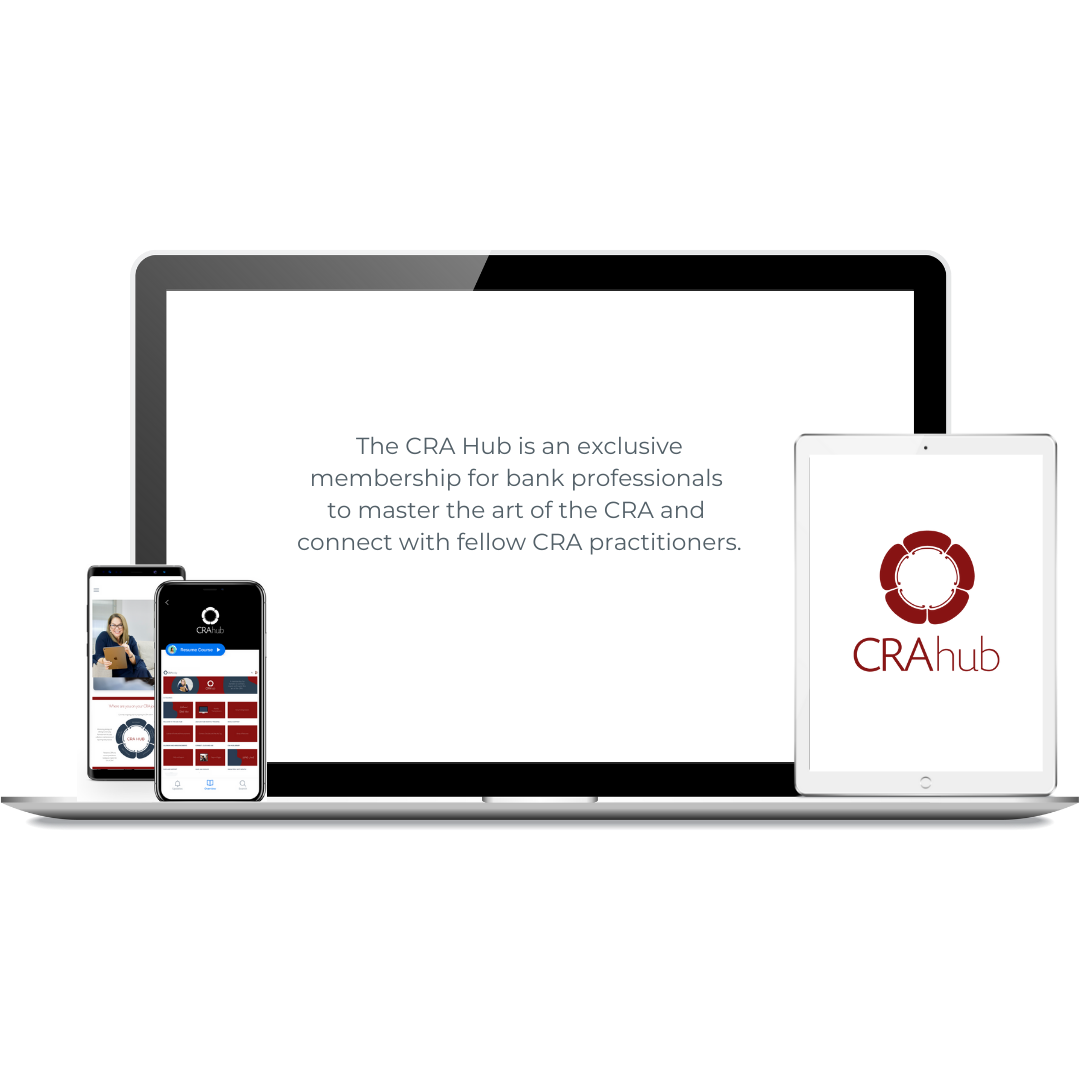 CRA TODAY
I have more than one person on my CRA team, do you offer multi-user discounts within the same financial institution?
Yes!  Each membership subscription is intended to be an individual experience… created for one person, via one login.  Customized discounts are available for multiple people within the same institution.  Email me at info@cratoday.com to inquire.
Do you offer refunds if I join and feel it isn't a good fit for me or my financial institution?
Of course! I am here to serve and want to support you in your CRA journey.  You can cancel for any reason within the first 10 days for a full refund. Thereafter,  we offer refunds for any months not yet started. The CRA Hub is a newer initiative and is evolving based on member's feedback. You would love the CRA practitioners in the Hub-they all come from various backgrounds and scope of responsibilities-they are a great group! Give it a try for a month!
I am still not sure if the CRA Hub is a good fit for me and my financial institution. Can I set up an appointment to talk about the CRA Hub?
Absolutely!  Reach out to me at info@cratoday.com for a free consultation.  I love to connect with CRA practitioners.