Are You Ready To Confidently Lead Your Bank's Program As The CRA Expert?
Even during the chaos of regulatory reform?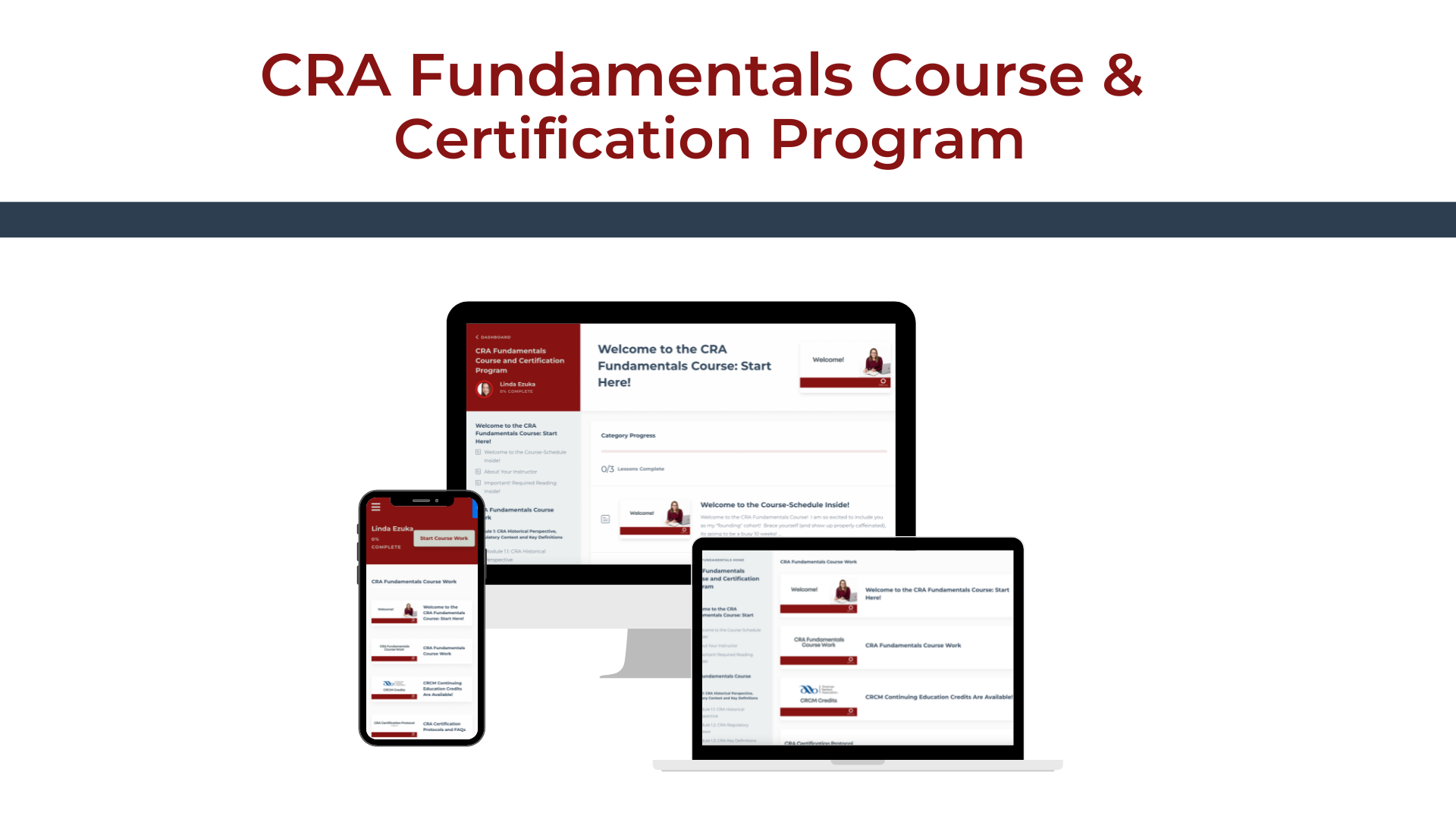 Our next cohort will start January 31, 2024 and continue live
once a week on Wednesday at 11AM Pacific/2PM Eastern,for 10 weeks.
Replays will be available.
Pricing options below.
CRA Fundamentals Course & Certification
You don't have to go it alone…
If you're new to the CRA, have been running a program without any formal training, or wonder if you have some gaps in your understanding, it's time to consider the CRA Fundamentals course!
I show CRA professionals like yourself how to level up their programs and maximize their loan performance.
You know there aren't enough CRA training opportunities in our industry. You also know that there are too many subjective elements of the CRA to second guess yourself as the weight of your upcoming CRA exam looms. I carefully created this course to deliver clarity and provide a community of peers to lean on so no one feels like they are alone in this work ever again.
"I have been involved with CRA at some level for several years and had a basic understanding of what was necessary to have a successful CRA program at our Bank. When the CRA Fundamentals course was presented, I jumped at the chance to take it. The course material has been well developed and just the right amount of information has been included in each session. Networking with peers and hearing how others approach CRA has been invaluable too. I am sorry to see the course come to an end. I am so glad I participated! The investment of time and money was worth it. I am more knowledgeable and confident now. I have more value to add to what we are doing with our CRA program. If you have an opportunity, sign up! It will be worth it!"
Pam, FDIC, Intermediate Small Bank
"Enrolling in the CRA Fundamentals course from CRAToday is vital to your success in the CRA arena.  No where will you find the volume of knowledge and educational material in one course.  This course offers a wealth of information that is unmatched anywhere.  I took the course as a refresher and came away with fresh ideas and useful tools.  Take the course, you will not be disappointed."
Cindy, FDIC, Intermediate Small Bank
"The CRA Fundamentals Course has helped me to think beyond what I am currently doing in regards to CRA. Each session represented an area of CRA in which we reviewed the definition and meaning and then brought it all together in how it applies to real life. The diversity of the group brought so many great ideas to the table! You don't know the art of CRA until you have been through the CRA Fundamentals Course."
Kathy, FDIC, Intermediate Small Bank
"Before I joined the CRA Fundamentals, I used to struggle with finding CRA related courses/webinars that really went into detail and gave specific tips or resources to make sure your CRA program is the best it can be. The CRA Fundamentals course really helped me navigate how to build our program in a way that works for us and how to be proactive instead of reactive. It was exactly what I needed to take that extra step."
Alyssa, FDIC, Large Bank
"Because of the the knowledge I gained the Hub and the Fundamentals course I have confidence in what I'm doing.  I can boldly go in front of the director-based CRA Committee and educate them with knowledge of the bank and our CRA direction.  I can stand in front of the loan officers and explain what to look for in a Community Development loan. I hate to admit it, but I just might be a little excited with what I can now do.  Thank you from the bottom of my heart for stepping up and starting this class.  I'm glad I was in the very first class of this incredible idea."
Ann, OCC, Intermediate Small Bank
Ten weeks to CRA program certainty…
From beginning to end, all core aspects of the CRA are shared.  Each module will guide you to implement within your bank and homework is assigned to ensure you can be sure your bank is compliant. This means no more wondering if your data has integrity, or how to prep for your next exam, and everything in between.
Module 1
CRA Regulatory Context and Key Definitions
Module 3
Community Development Services
Module 5
CRA Data Collection, Integrity and Reporting
Module 6
Community Development Loans
Module 7
Community Development Investments
Module 8
CRA Technical Compliance Requirements
*Note that sessions start on January 31 for 10 weeks.
There will be a one week break March 4-8, with sessions resuming on March 14.
A brand new session for the CRA New Rule will be held on March 22.
What you get with the CRA Fundamentals Course
The CRA Fundamentals course includes 10 weeks of LIVE training with Linda Ezuka. That's over 20 hours of training delivered in bite-size pieces on a weekly basis so you can balance your current priorities.
Also included in the training is a CRA Fundamentals manual that you can download, 20 ABA CRCM credits, one year of access to the training replays and resources, a community platform to connect with your CRA peers, and a few more surprises along the way!
We also have bonus materials to make sure your CRA program is compliant. From ensuring your public file is accurate, to ensuring your loans are categorized correctly (and accurately), all materials and the bonuses are curated with the CRA professional in mind! 
CRA Public File Checklist
CRA Data Integrity Root Cause Analysis Template
CRA Loan Data Collection and Reporting Grid
Ask Me Anything Office Session
[New Session] How to Prepare for the CRA New Rule
(March 22, 2024)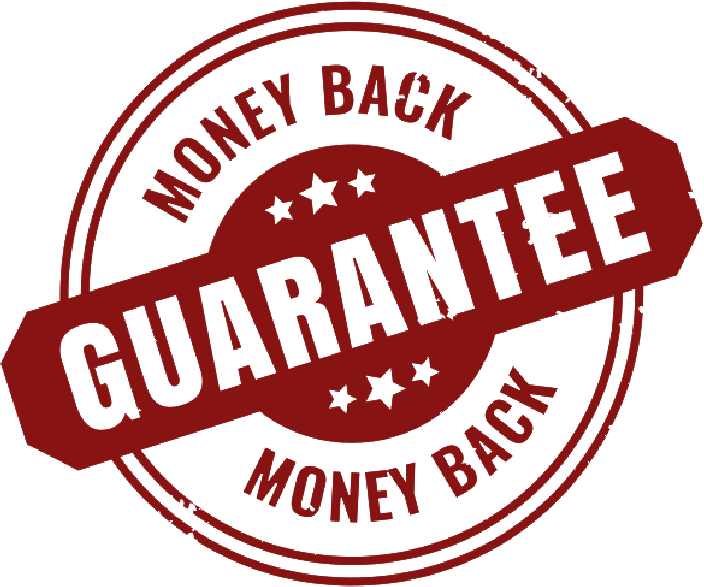 100% Satisfaction Guarantee!
We are here to serve!
If this course does not meet your expectations, a full refund will be issued without any questions asked. You will have access to two live training sessions to make sure the course is what you were expecting and adds value to you and your bank's CRA program.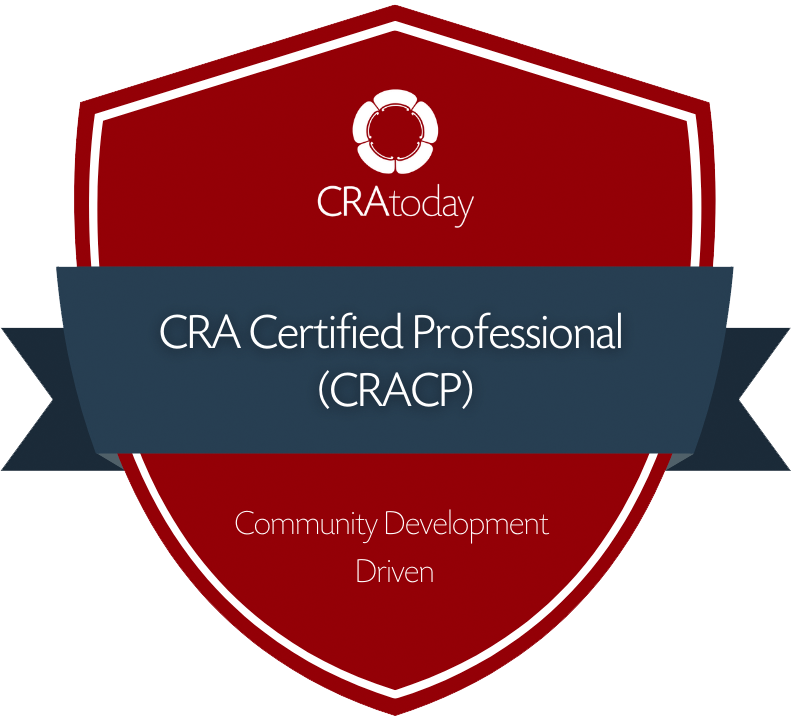 Our most dedicated CRA Officers choose to seek the CRA Certified Professional Designation
The CRA Fundamentals course is one of the core requirements to seek the CRA Certified Professional (CRACP) designation. This new CRA certification is the first and only designation available to CRA professionals.
Trusted by Banks of All Sizes and Regulators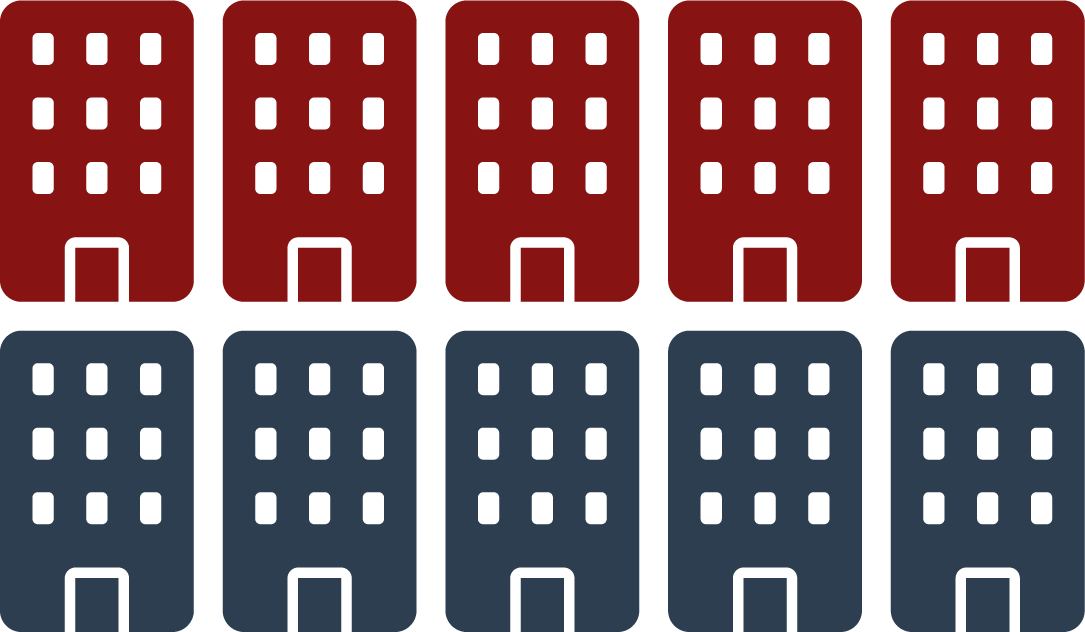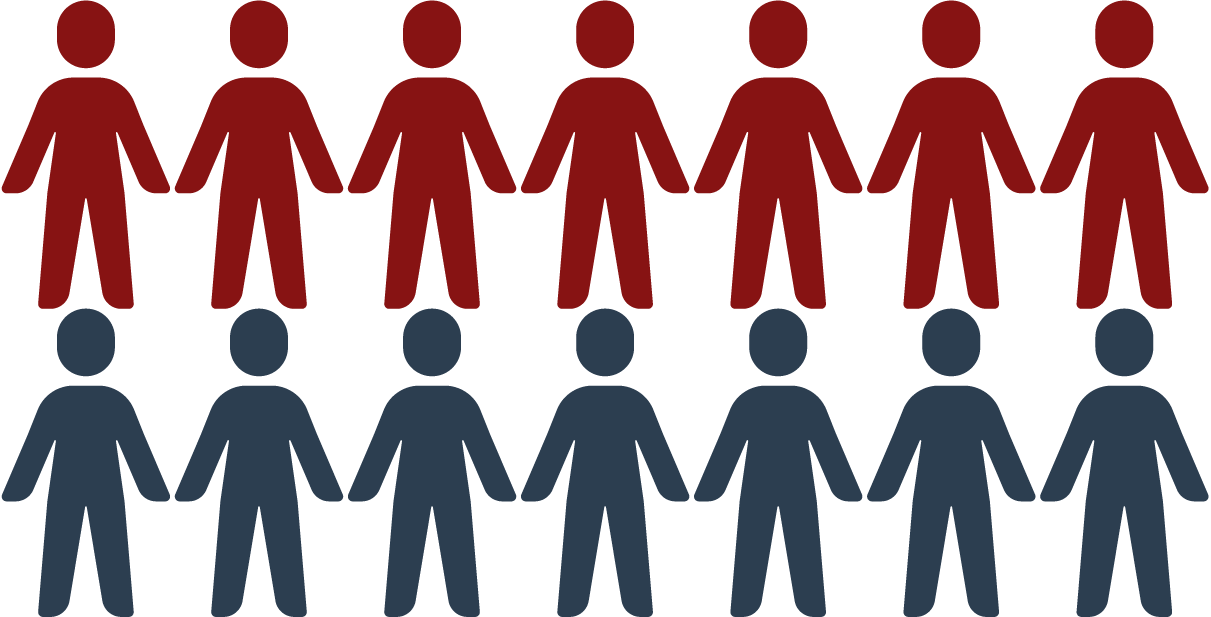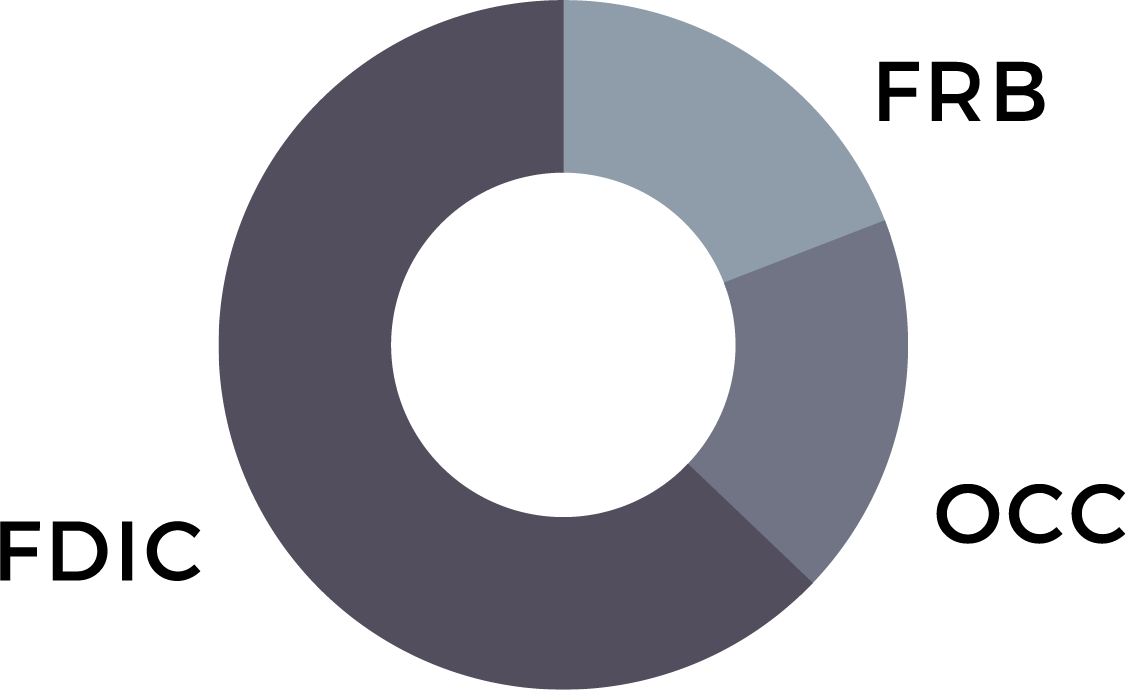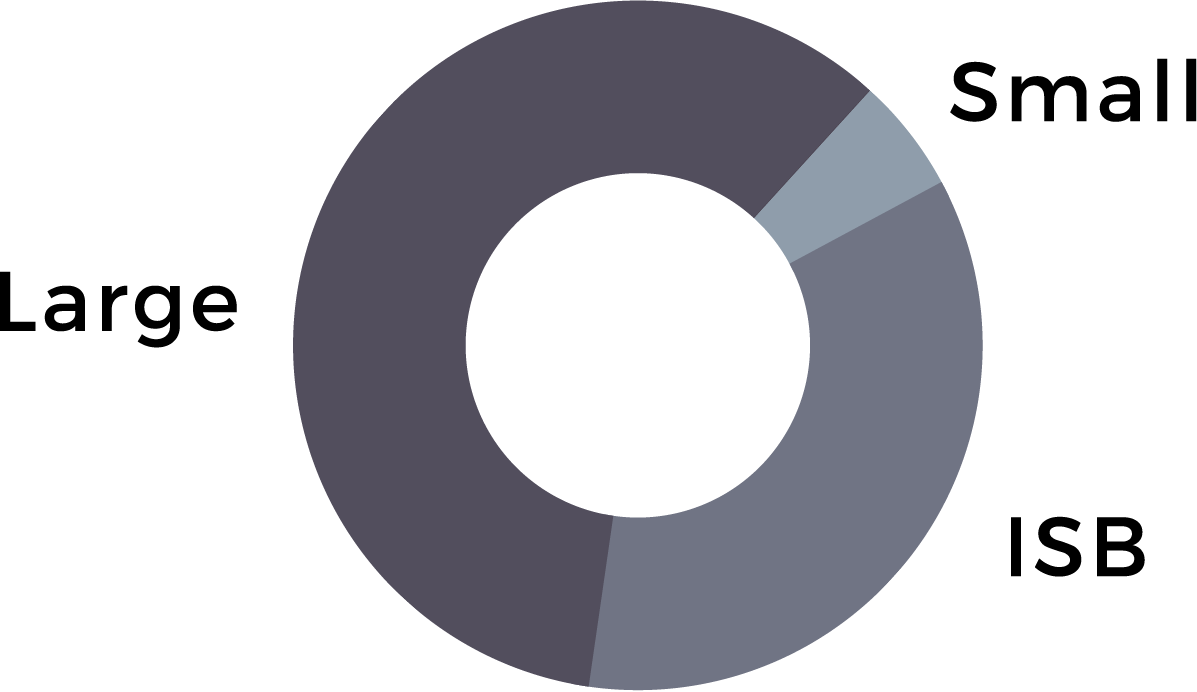 Frequently Asked Questions
Here's what people are asking before signing up for the CRA Fundamentals Course!
How long will I have access to course materials?
After purchasing the CRA Fundamentals course, you will have access to course materials and resources for 12 months from the date of purchase.
Should I wait to purchase the course until new regulation is released for this year?
We estimate that it will be another two years before we will be subject to a new CRA rule. The law is not changing, just rules to comply with the law. The fundamentals of the CRA will stand as a foundation basis for our CRA programs. Once a new rule is instated, we will release a new version of the course. If you previously enrolled in the CRA Fundamentals course, you will be eligible for deeply discounted pricing for the new course.
How can I pay for the CRA Fundamentals course?
You can process via credit card, ACH or via check/invoice. Reach out to us at info@cratoday.com to arrange for an invoice or an ACH transaction.
Will there be a certification option after the course?
Yes. Once you complete the CRA Fundamentals course, you will be eligible to take the CRA Certification Exam. Learn more.
Does the CRA Certification Exam cost extra?
The cost for the CRA Certification Exam is $395 and retakes are $100. Learn more.
Will Continuing Professional Education (CPE) credits be required once I get certified?
CPE credits require 10 credits per year for a total of 30 per three-year recertification period. Learn more.
The CRA Fundamentals Course:
Learn the core provisions of the law, the definitions, technical compliance, data integrity, performance analytics, how to conduct a self assessment, how to prep for your next exam and more.
This course sets the foundation of knowledge of the law, so you can ensure your bank is exam ready and navigate regulatory changes with confidence and clarity.
Consider this course the educational equivalent to a semester long advanced college course, and yes, with homework.
*We are happy to invoice your bank or set up an ACH relationship.
Fundamentals Course: $2,750 (one-time fee)
Bundle to save and get support year round:


Bundle CRA Fundamentals Course +          CRA Hub Membership
Now, if you join the CRA Hub, you get a special rate for the CRA Fundamentals course.
Once you have a solid foundation from the CRA Fundamentals course, a community of peers will be waiting for you within the CRA Hub to help you implement, all year long!
The CRA Hub is where you take action and apply your CRA knowledge to level up your bank's CRA program.
CRA professionals convene and share best practices around maintaining exam readiness, building a compliance culture within the bank, implementing special purpose loan programs, forging partnerships with CDFIs, avoiding underreporting community development activities, and more!
Oh, and did I mention, the CRA Hub is where we will unpack the new CRA regulation once promulgated and within the short implementation period. You absolutely don't want to go at it alone as this rule will be like no other-the bar has been raised!
The CRA Hub offers continuous access to our library of advanced training, monthly live training sessions, peer collaboration, guest speakers, and a private community for CRA professionals.
Fundamentals Course: $2,000 ($2,750) + CRA Hub Membership: $2,995 = Bundle Price: $4,995** ($750 savings)
*Includes enrollment in the 10 week CRA Fundamentals course and one year membership with the CRA Hub (you will be invoiced annually, cancel anytime)
**Your CRA Hub membership will start two months after the start of the Fundamentals so you can stay focused on the Fundamentals before you join the larger community of peers in the Hub. 
***We are happy to invoice your bank or set up an ACH relationship.
"The CRA Fundamentals Course has helped me to become more confident as a CRA Officer.  It's helped me fill in my knowledge gaps as I navigate the expanded CRA requirements at a large bank from those at my previous small bank.  I love that I can go back to the lessons to re-watch as needed for further reinforcement.  The community of fellow CRA professionals in our cohort was wonderful too.  The variety of bank sizes, regulators and experiences represented in our group added depth to our discussions and hearing real-world examples and questions brought the material to life.  Finally, Linda's passion and commitment to helping us all serve our local communities and carry out this important work is infectious.  Her expertise paired with her warm, upbeat personality make her the perfect teacher."   
Kerry D., CRA Officer, FDIC, Large Bank