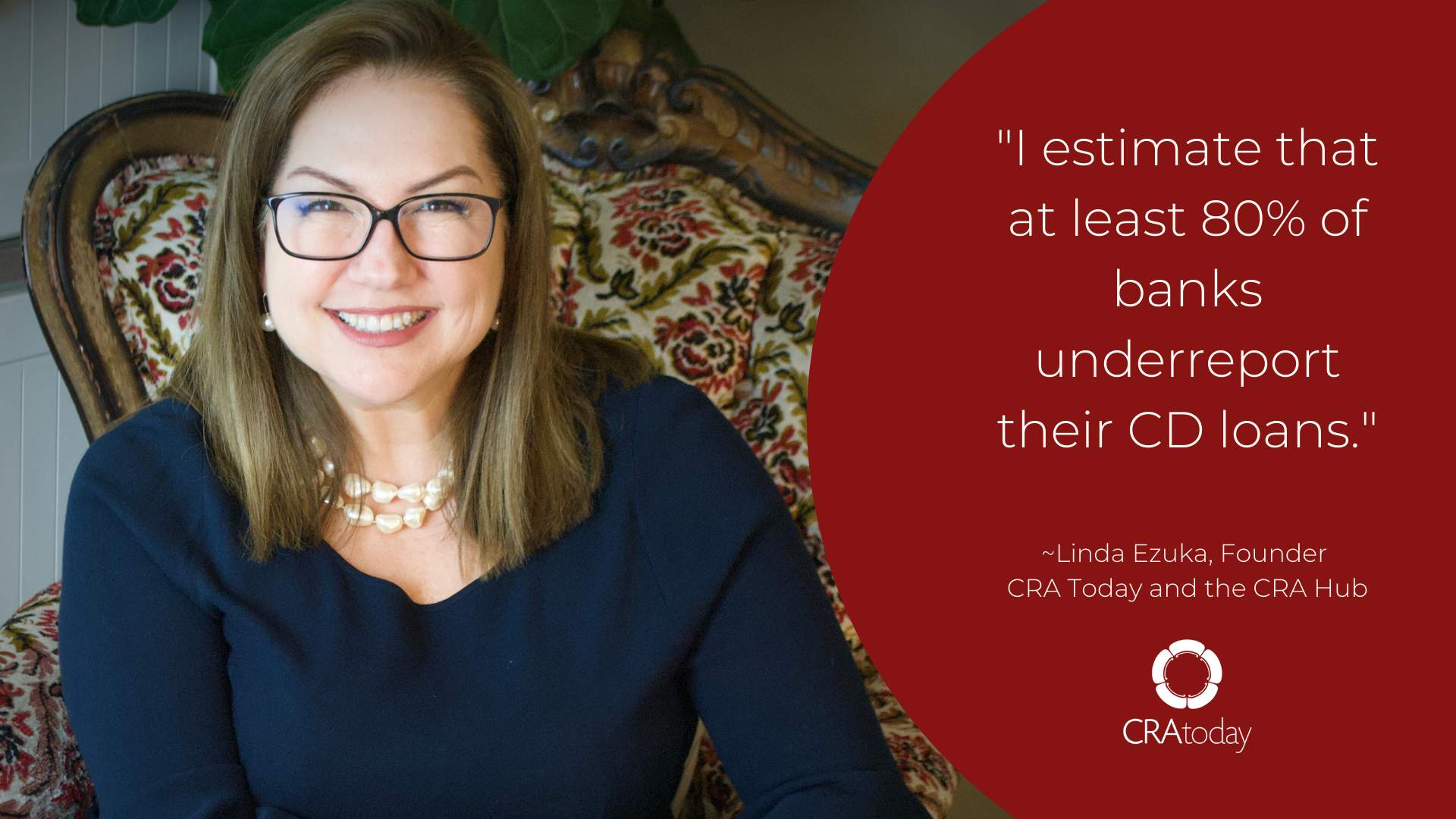 An estimated 80% of banks underreport their community development loans. This means that 80% of banks are under-representing their CRA lending performance, which puts their CRA ratings at risk.
The lending portion of the CRA exam is the most heavily weighted, which means it's important that you accurately report the number of community development loans your bank originates. The best way to avoid underreporting community development loans is by proactively seeking out and identifying these loans within your financial institution. Here are six ways to approach this:
1. Attend commercial lender team meetings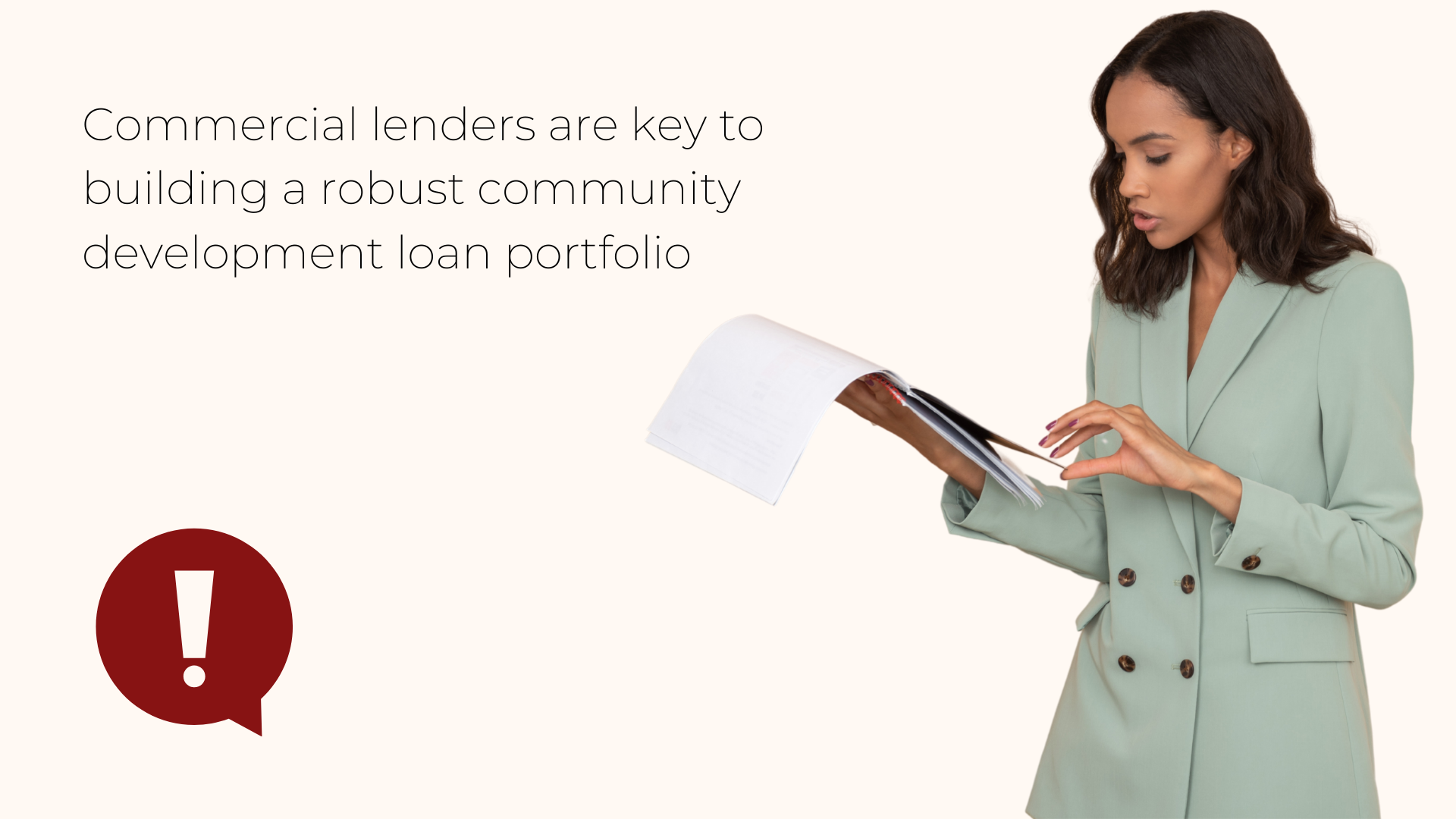 Commercial lenders are key to building a robust community development loan portfolio. One way to learn more and build relationships with lenders is by attending their team meetings.
During these meetings, you can learn more about the underwriting process and see loan prospects. It is during these meetings that you might get leads to community development loans. This will help you find community development loans that may have slipped through the cracks had you not been in the meeting.
Attending these meetings will also help you learn their language and build relationships with the lender team. When they see that you're interested in their work, they may be more likely to come to you when they find a community development opportunity. You should encourage lenders to overreport to you because the more potential community development loans you receive, the more likely it is that some will qualify.
Attending meetings also allows you to report back to the team on any community development loans you've identified during your loan mining processes. When you show them how they've contributed to the CRA program with concrete examples through ongoing CRA training, they may be more motivated to identify future loans. When it's habitual and easy for them to report to you, you'll likely receive more prospects, and that is what we're aiming for!
2. Ask lenders to send pipeline reports
Another great way to involve lenders and find more community development loans is by asking lenders to send you their pipeline reports.
This pipeline report is a list of loans that lenders are currently pending throughout the loan origination process (application, structure, underwriting, approval, etc.). While not all of these loans will qualify as community development loans (or even most of them), some may. This also gives you a great starting point when searching for new loans.
You can ask for these pipeline reports monthly, quarterly, or however often will best support your review process. When you make it easy for lenders to support your CRA program, you're more likely to see a high return and find new community development loans.
3. Hire a college intern
A great way to find a lot of community development loans is by reviewing 100% of the loans that go through your bank. But, depending on the size of your bank, you may need help. If this is the case, try hiring an intern to help out.
By having an intern mine for loans, you can spend more time doing other important CRA work and worry less about finding and reporting new loans.
And the best part is that hiring an intern can cost very little money. Your intern can work for free or have a small stipend, plus they get much-needed job experience. It's a win-win situation.
4. Segment your community development loan prospects
If you aren't sure where to begin looking for community development loans, start by segmenting your prospects and going through each section. See if there are any categories you haven't yet funded, and seek out loans in these areas. You can also search for loans that fall under a category you've dealt with in the past, as these loans may be easier for you to identify.
The categories you should look at are:
1. Loans to nonprofit organizations
2. Small Business Administration 504 and PPP loans
3. Renewals and major modifications
4. Loan officer or system-identified loans
5. Loans in low-to-moderate income (LMI) areas/redevelopment districts
5. Take advantage of the economic development hook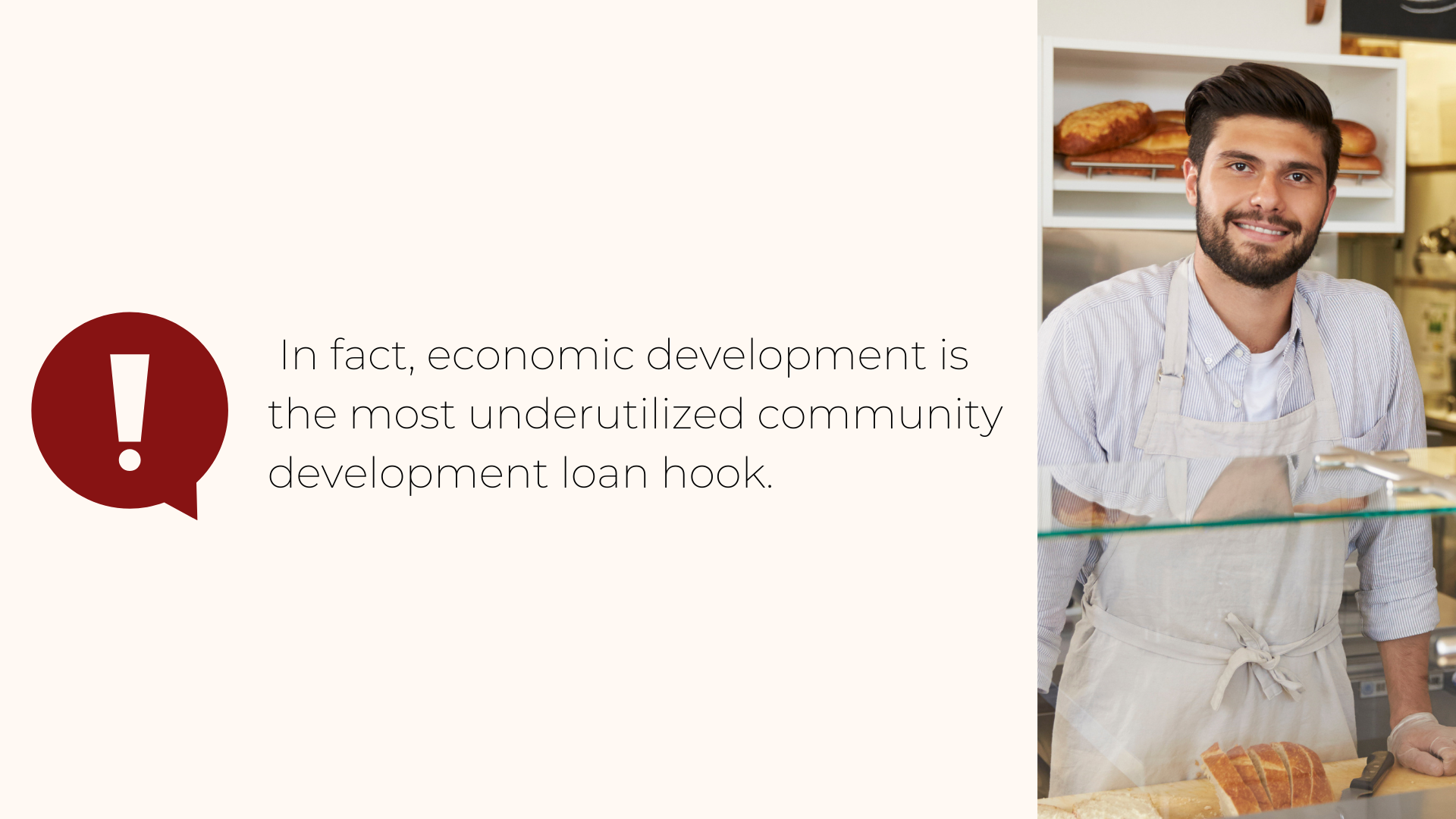 According to the Small Business Administration (SBA), there are 31.7 million small businesses in the United States. The CRA is built around measuring how banks deploy capital to small businesses, yet sometimes we forget to consider larger loans originated to small businesses as a possible community development loan. In fact, economic development is the most underutilized community development loan hook.
If you focus your efforts on providing loans to small businesses, you can not only help these businesses thrive but also build your community development loan portfolio.
To meet the economic development hook requirements, the loan must:
1. Size Test: Finance entities that meet the size eligibility requirements of the Small Business Administration or have gross annual revenues of $1 million or less, and
2. Purpose Test: Promote permanent job creation, retention, and/or improvement for LMI people or areas 
Check out this SBA Small Business Size Standards resource to see what qualifies as a small business based on industry type.
6. Use Kadince to track and manage your loans
If managing your community development loans is a manual and time-consuming process, Kadince can help. 
Kadince software makes it easy to track, manage, and report your community development loans. All your data will be kept in one place so that you don't have to jump between spreadsheets all day long. With Kadince, you'll spend less time managing loan data and more time finding new loans and developing your bank's CRA program. 
Schedule a demo today to start streamlining your community development loan process!
CRA Today offers a wide variety of training and advisory services to help you master the CRA. Whether you are new(er) to the CRA or a seasoned professional, we stand ready to get your exam ready and help you drive impact into your local communities.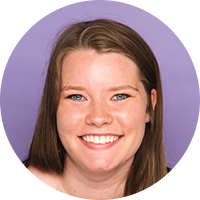 Jaidyn Crookston is a content writer for Kadince. She graduated from Southern Utah University in 2021, where she studied creative and technical writing. Jaidyn has always loved how words work together to create a strong message that can be used for good, which is something she tries to do through her work with Kadince. Click here to learn more about how Kadince helps financial institutions streamline their CRA compliance.